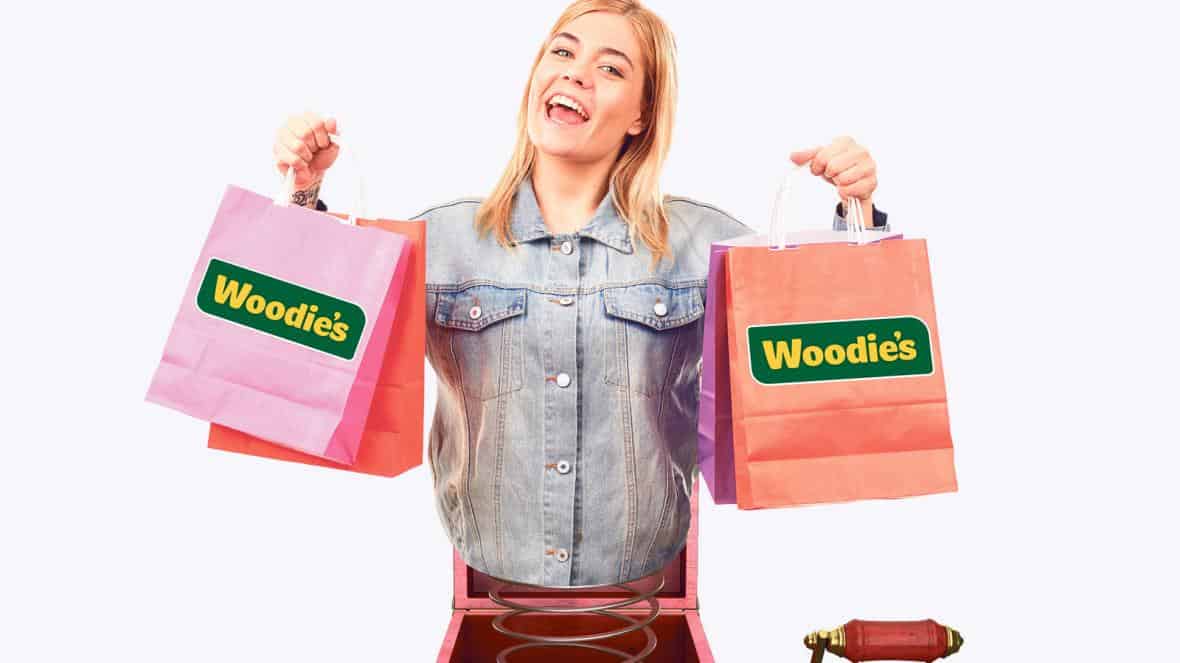 Retail parks are booming thanks to the draw of big-box stores such as Woodie's
In 2015, Navan retail park in Co Meath was looking a little worse for wear. Empty units were damaged and rotting, and the boom-time development was in need of some TLC. It was no wonder that the site was 40% vacant.
That year, a fund controlled by US-based investment management firm Oaktree Capital snapped up the property for €11.5m. Sigma Retail Partners, then a newly founded retail asset management company, was charged with looking after the site.
"It looked a little unkempt. There was little incentive from the previous owner to invest in it," said Sigma's managing director Marcus Wren. "There was no digital strategy. No website or Facebook page."
Fast-forward five years, and the park — with 10 units and 1,100 car parking spaces — is now fully let and footfall has doubled.
Wren, who is a former senior retail property adviser for Nama, attributes much of the park's success to a strategy of rolling out a digital marketing campaign and increasing customer dwell time by adding new retail brands to the mix and introducing food and beverage outlets. A similar strategy has been adopted at many of the eight parks now under Sigma's watch. In total, it oversees 2 million sq ft of retail space that caters for a combined total of 45 million customers each year.
"Our sole purpose in life is to add value and enhance [retail locations] from a tenant and customer point of view," said Wren, who also oversees six shopping centres in Sigma's portfolio, including the Square in Tallaght. "We set out a detailed business plan and we also prepare a masterplan, which involves meeting with the local authority and giving them our vision and getting feedback as to what they would like to see. That approach has proven very successful." The value of the assets under Sigma's portfolio has increased 30% since 2015, and the company has struck deals with Danish homeware brand Jysk for parks in Navan, Naas, Drogheda, Limerick and Sligo.
"Despite the perceived negative around retail, what we're seeing is an ongoing positive trend," said Wren. "We meet our retailers regularly on sales performance. The vast majority are consistently improving their turnover."
Of 22 lease break options in Sigma's portfolio, only one has been exercised — by a carpet store that went through a company voluntary arrangement and decided to concentrate on its UK business. The death of retail appears to have greatly exaggerated, at least for the so-called big-box retailers. A relic of the Celtic tiger years, the traditional big-box retail park caters for bulky goods retailers. Typical tenants include DIY store Woodie's, home furnishings outfit Home Store + More, and electronics retailer Currys PC World. Given the mix of tenants, the format is "inextricably linked to the building of new homes", according to Johnny O'Connor, senior director of retail at CBRE.
As a result, the parks suffered heavily during the recession and property crash but have benefited from the double-digit annual growth in sales of household equipment recorded since 2017. "If you look across the country, the dominant retail park in each town is at full capacity, or fairly close to it. That's because rents became more affordable [after the recession] and the spend on products is starting to increase," said O'Connor.
However, there remains an oversupply in some regional locations. For example, Carlow town has three parks "where really one strong park would suffice". The outlier is Dublin, where there is a shortage of supply, with many parks charging rents of between €38 and €40 per sq ft. For comparison, those under Sigma's management — which are located in busy areas outside the capital — charge between €12.50 and €15 per sq ft. "[Dublin] could definitely cater for another few retail parks," said O'Connor. "You're starting to see that with the extension to Carrickmines."
Last year the institutional property investment firm Iput, which owns Carrickmines park in south Dublin, was granted planning permission for a €75m extension at the site that will include two supermarkets, retail warehouses, a seven-screen cinema, indoor skydiving centre and 130 apartments.
The project is billed as a plan to convert the park into "a neighbourhood shopping destination". Darragh Cronin, director of retail at real estate company Savills, said hybrid developments — where bulky goods stores sit alongside other retail formats — were performing most strongly.
"What retailers seem to like is the hybrid of a large-scale Boots or Life Style Sports or TK Maxx in one of these parks [mixed in with bulky goods]. You're generating more of an everyday footfall," he said. "That sort of a shop would be more of a destination, you're attracting more footfall."
Local planners have often been cautious about opening up spaces for uses other than bulky goods sales over concerns that they may detract from town centres. "You've got to be careful because you don't want to tear the heart out of a town. You want to keep the locals and the night-time economy in the town. It's important to note that," said Cronin.
However, there is certainly an appetite for further development. "I would say that, to the vast majority of core landlords that own the best of the best, the idea of having the ability to extend their retail parks by 50%-75% would be very attractive. I could fill those parks quite regularly. My understanding is it is extremely difficult to get planning permission," said Cronin. Cushman & Wakefield's head of retail, Karl Stewart, said many people in the sector would like to see a modernisation of planning guidelines.
"I don't think [the rules are] going to massively change, but I think a balanced approach to this, mixing bulky with more open use, is the way forward," he said, adding that for certain retailers — such as pet stores and sports clothing shops — parks are seen as the only viable option to carry a full product range.
Big-box stores, effectively large warehouses, are not the most pleasing to the eye, though some have begun to improve their layouts and add softer finishing such as better lighting. This reflects a shift in consumer shopping habits, where brick-and-mortar outlets become showrooms for products that may ultimately be purchased or reserved online. Staff double up as experts who can demonstrate products, and more space is dedicated to stockrooms. "You can carry stock at the back and become a hub for distributing or click and collect . . . With fewer physical stores in your portfolio, that's your shop window for your brand," said Stewart. "Whether people buy online or in store, they're familiar with the physical store. My own view is there's a place for both, but it's a balanced omnichannel."
Stephen Murray, a senior director at JLL retail agency, said that, given the fact that parks provided large surface car parking and were easily accessed from motorways, they were an ideal option for click-and-collect shopping. The Swedish furniture and homewares giant Ikea — which last week announced the closure of a large UK store, partly due to customers' preference to shop in parks and online — set up its second outlet in the Republic in south Dublin as a click-and-collect outlet hub. There is little churn in retail parks — which cater for roughly 15 tenants compared with the 80 or 90 at shopping centres — and, given the shortage of available space in prime locations, some retailers have struggled to find suitable tenancies.
"International retailers are still looking at the market, but they are finding it a difficult one to crack if they want that security of an absolute prime pitch, and are finding rents they have to pay somewhat higher than what they had expected," said Murray. Some, including Jysk, have opted to open stores in regional centres first. Last year the Scandinavian company set a target of 40 locations over the next three to five years with the ambition of generating annual sales of up to €70m.
With vacancies low and rents rising, both indigenous and international investors have been drawn back to Irish retail park developments in recent years. In 2018, Deutsche Bank acquired Westend retail park in Blanchardstown for a reported €148m. Last year Iput paid what was believed to be €56m for Mahon Point retail park in Cork. In addition to Carrickmines, the fund co-owns Airside retail park in north Dublin. Private investors through brokers Davy and Cantor Fitzgerald have also invested in retail parks in the past year.
Yet the Knight Frank director Adrian Trueick claimed that, compared with other property assets, retail parks were still something of a niche, as returns were lower than for residential and office developments. "In terms of investor demand, it's very low in terms of the hierarchy of what people are after at the moment," he said. "The negativity towards retail in general has caught parks in that mesh, albeit that they do operate on a different basis than regional shopping centres that might be struggling."
Sigma's Wren is quick to challenge the perception that brick-and-mortar retail is struggling under the weight of online competition. The company is aiming for "sustainable" growth. "That's a key word," said Wren. "We want rents to be sustainable so that retailers can make a decent profit and yet can afford to pay their rents. We'd rather see a modest increase of 2%-5% per annum rather than rents doubling, which ultimately won't do anybody any favours."
There is, he adds "a carte blanche approach" that everything in the retail industry is bad. "But you have to put your head under the bonnet and understand location-specific demographics. It's a complex area . . . There are good retailers and bad ones, just like there are good and bad landlords."