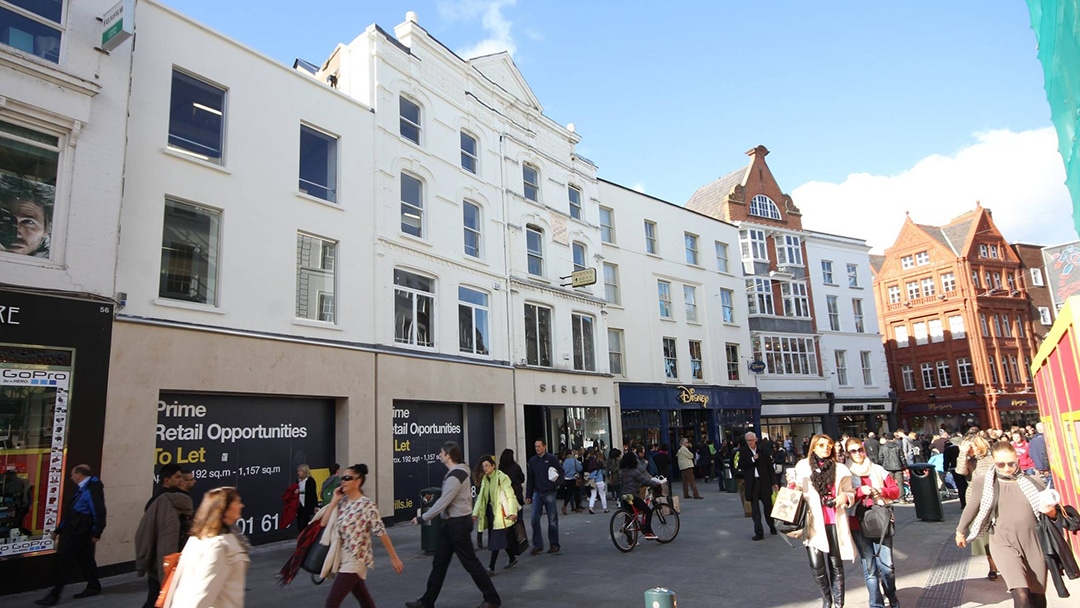 Property funds main landlords on Grafton and Henry streets
Some 54% of the buildings on both of Dublin's prime retail streets are owned by property funds which equates to 64% of the retail space on Grafton Street and 71% on Henry/Mary streets.
This is according to new research from estate agent BNP Paribas Real Estate which points out that four Irish property funds – Irish Life, Iput, Prescient and New Ireland Assurance – own 41% of the combined building stock on both streets.
Irish Life owns the highest number of buildings on both streets (32, a figure which excludes joint ownership of two buildings), followed by Iput (13), Prescient (11) and New Ireland Assurance (7).
Other property funds with significant interest in these streets include IBI, Friend's Frist, Dekka and GLL.
Joan Henry, head of research at BNP Paribas, says that the occupancy rate, at 97%, remains "very high" on Grafton Street. "There are three units vacant on the street: numbers 113 and 115 are both available to rent but are located on the north end of the street opposite Trinity College and offer relatively small floor areas while number 26/27 is being refurbished with a pre-letting in place."
On Henry/Mary streets there are only two vacant retail units: one recently vacated by Pamela Scott and the other a relatively small unit at the GPO buildings. This brings its occupancy rate up to 97%, too.
Rents
Retail rents have recovered considerably on both of Dublin's prime retail streets since they declined rapidly by between 50-60% in 2007-2012. Rents struggled at these levels until the end 2013, early 2014 but there has been clear and consistent evidence of considerable upside in the last 18 months, as the consumer economy recovers and demand from retailers increases, according to BNP Paribas.
Rental growth on Grafton Street has been more pronounced than on Henry Street, according to Eoin Feeney, executive director of retail BNP Paribas.
"Grafton Street rents are up by between 15-20% over the last 12 months. The recovery of rents on Henry Street has been slower to establish a pattern, with the stabilisation of rents being the main trend evidenced in the past two years.
"Prime rents currently being achieved on Grafton Street are around €500 per sq.ft and €275 per sq.ft on Henry Street. With the current occupancy rate and the strength of the recovery in retail sales, we expect to see continued rental growth on Grafton Street and for rental growth to gain momentum on Henry/Mary Street in 2016 and 2017."
A number of retailers have opened on Grafton Street over the past 12 months including Massimo Dutti, Lifestyle Sports and Claire's Accessories while Hugo Boss is due to open in the coming months. 45% of the retail space is occupied by department stores, Brown Thomas and Marks & Spencer.
New occupiers on Henry/Mary streets include Mango and Parfois. Joan Henry says the number of strong anchor department stores on Henry/Mary streets make it an "attractive location for other retailers with 63% of the retail space on the streets occupied by department stores".
According to the BNP Paribas research, Henry/Mary streets have the highest proportion of space occupied by department stores (Arnotts, Dunnes, Penneys, Debenhams and M&S) compared to other prime retail locations in Dublin. For example, just 25% of the total retail space in Blanchardstown Shopping Centre and 33% in Dundrum Town Centre is occupied by department stores.
Investors
Investor interest in Grafton and Henry streets has increased considerably over the past two years following a period of minimal activity. "Transactions in recent quarters provide evidence that yields have tightened to between 3.4-4%" says Feeney. "This represents a very significant tightening. Yields were estimated to be in the region 7.5-8.2% for over-rented properties in 2011-2012."
Nineteen Grafton Street properties have changed hands in the past three years – that's 21% of properties on the street. The investment market recovery was led by German funds with Irish institutional investors dominant in recent quarters.
The most recent transactions on Dublin's prime retail streets took place during this quarter when Irish Life bought the so-called Sovereign Portfolio for €154 million. It included 7-11, and 85 and 86 Grafton Street, and 51 and 52 Henry Street. During the second quarter of this year 57-58 Grafton Street was sold for €19.2 million while number 30 made €6.5 million in Q2, 2014.
Article by Irish Times