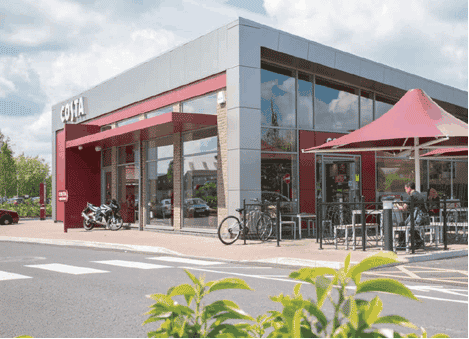 New Costa Coffee store to open in Waterford Retail Park
Costa Coffee will open a brand new store in Waterford Retail Park on the Outer Ring Road this summer. The new coffee pod will take up a floor area of approximately 2,600 sq. ft and will result in a bright and spacious high-spec coffee offering with outdoor seating. It joins other big-name retailers in the retail park including anchor tenant Harvey Norman, Homestore & More, Curry PC World, Halfords, Home Focus, EZ Living Interiors and Maxi Zoo.
Costa Coffee is a multinational coffee house company and is the second largest coffee house in the world. Costa Coffee is present in 31 countries across the globe and it opened its first store in Ireland in 2005. Its number of stores have been growing ever since and it has multiple stores all over Ireland.
The asset manager for Waterford Retail Park, Jenna Culligan from Sigma Retail Partners, said "We are delighted that Costa Coffee is joining our very strong tenant line-up in Waterford Retail Park. As part of our strategy for this park we identified that food and beverage was missing for the park and we sought to provide this for the retail park. As everyone knows Costa Coffee are one of the biggest coffee chains in the UK and Ireland and we are absolutely delighted to have them on board."
Waterford Retail Park is easily accessed from Waterford City and is less than a 10 minutes' drive away. The retail park is located along one of the main access routes to Waterford City from the M8 and N25 (Cork Road) and benefits from free customer parking. Waterford Retail Park is also located close to Waterford Greenway and the new Costa Coffee store will be a great pit-stop for visitors heading to and from the Greenway.