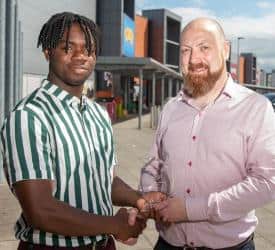 Navan Retail Park's Local Heroes award
Love Navan has been named the town's 'Local Heroes'. As part of Navan Retail Park's commitment to social responsibility, it sought out the town's most deserving community workers. The competition is part of Navan Retail Park's asset manager Sigma Retail Partners' commitment to social responsibility.
'Do Well by Doing Good' is the theme of Sigma's 2019 corporate responsibility programme. And Love Navan was adjudged the most deserving of the award. It has now received a prize of €1,000 from Navan Retail Park towards its work. Love Navan is a collective initially brought together by a Meath Chronicle article asking if anybody cared about the town. It is driven to bring the community closer, enhance pride and empower activism.
It works with groups and individuals to develop community strategies, promote arts, culture and heritage, and identify potential events to excite the town whilst developing an online hub with the hashtag #LoveNavan. "Our goal is to be a link in connecting different community projects and providing support," said Love Navan's Eimear Clowry Delaney. "We hope to inspire people to act in the best interests of the town, be it through shopping local, environmental projects, healthy living or supporting local arts and culture or sports teams." According to Sigma's Freda O'Donnell, asset manager at Navan Retail Park, "Love Navan is a most deserving winner and we are delighted to back their wonderful work."
With big name brand stores, located off the M3 at exit 9 and just a two minute drive from Navan town centre, Navan Retail Park offers a wide range with ample car parking.
Article by Meath Chronicle