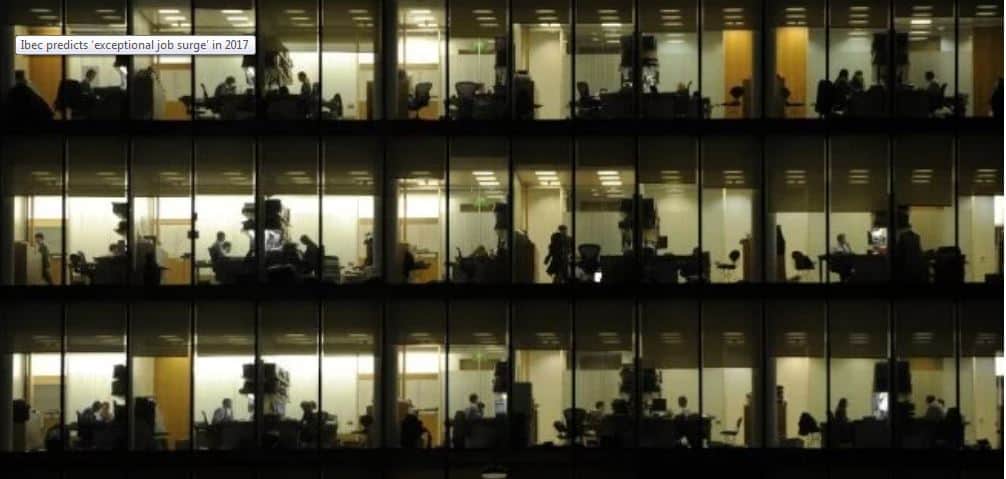 Ibec predicts 'exceptional job surge' with up to 50,000 new jobs in Ireland in 2017
Ibec has forecast that up to 50,000 new jobs will be created in Ireland this year.
The business group's latest quarterly Economic Outlook shows that growth will continue to be strong, despite international uncertainty caused by the likes of Brexit. It predicts growth of 3.1% for 2017 and 2.8% next year.
Fergal O'Brien, Ibec's director of policy and public affairs, said that consumer spending and investment are key drivers:
"In many ways the Irish economy is in great shape right now. We look at all these external threats that we're facing over the coming years in terms of Brexit, in terms of policy change in the US. But the fundamentals domestically are really strong."
"Consumers are in a good place, the jobs growth really has been spectacular in recent quarters and the outlook is probably pretty good for investment and construction in the economy as well."
Spending will get a boost from an "exceptional jobs surge, coupled with tax cuts, wage growth and limited inflation", O'Brien predicted. He also sees investment growth hitting 14.8% due to the "resurgence" of the construction sector.
Ibec noted that the economy is now growing at its fastest rate since 2007. Employment, excluding construction, has returned to pre-crisis levels while short-term unemployment has fallen to levels last seen in early 2006.
The group is now calling on the Government to capitalise on this growth to "ensure decisive policy action to improve competitiveness and adopt measures to minimise losses from Brexit, particularly in the regions".
O'Brien added: "Investment and liveability issues such as transport, housing and education must be prioritised before the window of exceptionally cheap money closes any further."
Article by News Talk