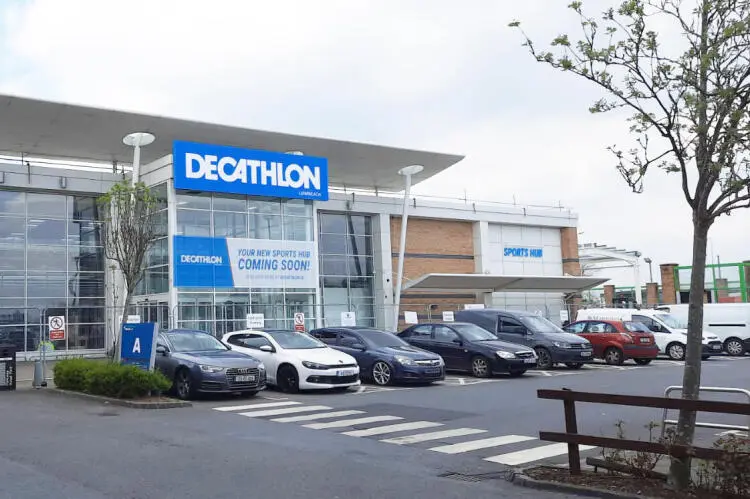 Decathlon opens second store in Parkway Retail Park, Limerick.
Decathlon, the global popular sporting goods retailer, has opened a new store today in Parkway Retail Park, one of Limerick's premier shopping destinations. The new store is its second store in Ireland and the first store outside of Dublin, offering a wide range of sports equipment and accessories for all sports enthusiasts. It has also provided over 100 jobs to the local community, with roles varying across the initial store refurbishment work, store management and leaders, operations and ecommerce.
Decathlon is a leading global sporting goods retailer with over 2,000 stores in 56 countries worldwide. The company is known for its high quality and affordable sports equipment and accessories, and its commitment to making sport accessible to everyone. Decathlon aims to transform the way of shopping for the future and give a complete sports experience to sports lovers. Their flagship store in Ballymun was built with this in mind and the new Decathlon Limerick Sports Hub follows the same concept.
This Flagship concept offers 5,000 sq.m of sales area with a full range of brands for 70 sports at incredible prices. It also provides 1,500 sq.m of "sport experience zones" which include a cycling track, studio, football pitch, basketball court and an outdoor area for fitness – all which can be used by Decathlon members for free. Their "sports community cafe" will also be on site, allowing Decathlon members to meet like-minded sports lovers. There will also be 400 car spaces offering free parking to customers. The new Decathlon store hopes to also work closely with local coaches and partners for sports events, the sports community and logistics.
"We are delighted to announce the opening of the new Decathlon store in Parkway Retail Park," said Paddy O'Connor, Asset Manager from Sigma Retail Partners. "Parkway Retail Park is a key retail destination in Limerick and the wider region and with the addition of Decathlon into the tenant mix, this reflects our commitment to providing customers with a diverse range of high-quality brands and experiences. We are confident that Decathlon will be a great success in Parkway Retail Park, and we look forward to working with them to create a dynamic retail environment for our customers."
The opening of the new Decathlon store in Parkway Retail Park is expected to attract sports enthusiasts from across the region and will contribute to the growth of the local economy. The store will be open seven days a week and will offer ample parking for customers.
Parkway Retail Park has a total of 10 retailers that includes TK Maxx, Currys, Elverys, Smyths Toys, Home Focus and Costa. It has 400 free surface car park spaces and major asset management initiatives are underway to further enhance the retail park.